Success in manufacturing is the key to overcome all the challenges in your business. Challenges in designing, costs, delivering and…; No matter what we're on your side. Here is the list of industries in which Sanat Gostar has over 13 years of experience:
Industrial Pumps & Valves
Investment casting is metalworking process which molten metal is poured into a mold. This mold is covered by several ceramic shells. Afterward the mold is left to be cold and the molten liquid metal takes the exact shape and size of the mold.
Investment casting is one of the casting process that is different from sand casting and die casting which traces back to centuries ago.
This method is considered to be the best method of casting. Because of remarkable surface finish and delicacy it's known as precision casting too.
Most of parts with complex geometry and internal shapes can be created by investment casting and as a single part with zero draft angle.
Reducing secondary operation: With the great surface finish of investment casting there is less needing for secondary operation and welding so it saved a lot of labor cost and materials.
Complexity: If you have complex part with cavity and thin walled thickness investment casting is the right choice for you due to less machining.
Flexibility: Size and dimension up to 78 inches (200 cm)
Wide variety of alloys: you have a lot of choices when it comes to alloys such as steel, nickel based alloys, cobalt, aluminum and…
Tooling with great precision allows us to provide services and high quality casting parts for our customers in many industries:
Automotive

Aerospace

Marine

Agriculture

Medical

Guns and defense industries

Food and diary

Pumps and valves

Oil & gas

 Trucks

Other heavy components
From stainless steel to aluminium, we almost cast any alloys 24/7. This variety of alloys, allow us to find the best and most suitable choice for our customers. here's a list of our alloys:
Stainless steel 

Aluminium 

Carbon steel

Steel alloys

Nickel-based alloys

Cobalt-based alloys

Copper-based alloys

Tool steels

Thermal expansion alloys
For more information, please take a look at Sanat Gostar's blog and gain more knowledge about the investment casting, rapid prototyping, materials we used and a lot more.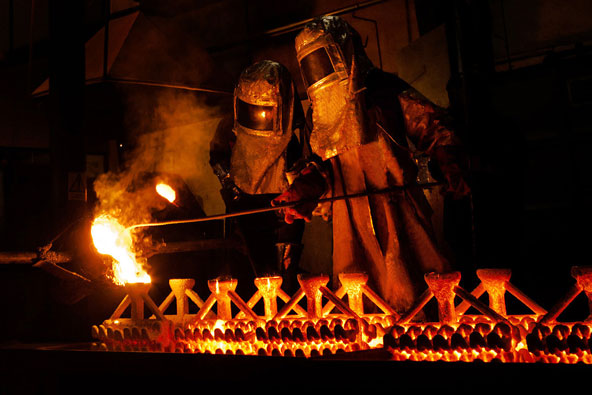 Here are some questions about investment casting that are asked from us most of the times.
Can I create a prototype by investment casting?
Yes, Sanat Gostar plays an important role in delivering the new products to the market. Our experiences in the field of prototypes give us the ability to make it available in a short bit of time.
What kind of alloys and materials are suitable for investment casting?
Sanat Gostar covers a wide variety of materials, almost everything that can be casted you can manufactured in this method.
What kind of CAT files can I send?
There is no limitations but our preference is STP.
We've tried to make a significant share in investment casting in domestic industries and reduce the needs of domestic industries from importing investment casting parts. Here in Sanat Gostar costumer always comes first.
Rapid prototyping

Faster delivery

The only provider of some industries

Gain customer satisfaction
Full time services and support

Minimum tooling cost

Capability of high volume production
2x
No one could question our speed. Speed in SG is not just words, we're simply 2 times faster than our rivals.
We're defined by our customers. Over 400 customers just in the country and it's just the beginning.
+950
Creation of every single part is a journey to us. More than 950 parts created and it's not even close to our limitations.
1000000
Capable of producing more than 1 million parts per month.
#1
Not only we're the first choice of our customers but also the best. For many years we've been the one and only supplier.
If revenue is an issue for you, it's has been already considered. We give you this guaranty which no customer holds more than 10% of our revenue.